Shape the future of lighting. Join us.
Fast, Flexible, and Knowledgeable Solutions for Unique Automotive Challenges
Welcome to Rebo Lighting & Electronics, where we offer fast, flexible, and knowledgeable solutions for our global customers. As the President of Rebo International, I am proud to be a part of a team that embraces our customers' unique ways of doing business. We understand that each customer is distinct, and we tailor our approach to meet their specific needs.
Our entrepreneurial spirit drives us to be problem solvers, constantly seeking innovative solutions to automotive challenges. With a rich history dating back to 1869, Rebo has a legacy as an established automotive company, boasting extensive know-how, a loyal customer base, and a deep understanding of execution knowledge. However, we also embody a start-up mentality – we are established, fast, and hungry, always pushing the boundaries of what's possible.
Our Lighting and Electronics portfolio addresses three increasing market trends:  
Lighting to be applied in various additional functions on the vehicle, especially in electric vehicles such as Charge Status Indicators and 'Frunk Lamps'   
Lighting to enhance both the exterior appearance and interior ambiance of a vehicle
Lighting to improve safety by ensuring that the vehicle/driver can see and be seen by other vehicles and pedestrians
Not only do we have an extensive lighting and electronic standard portfolio which allows for quick, proven and cost efficient solutions to our customers but we also pride ourselves on offering unique solutions that go beyond the standard offerings. We don't settle for what everyone else has; we believe in turning challenges into opportunities by developing custom solutions that meet our customers' exact requirements. Sustainability and customer satisfaction are at the core of our values, and we strive to exceed expectations in every aspect of our business.
We are always ready to be where our customers need us to be, providing on-time, reliable, and responsive services. Our global footprint means seamless product development and manufacturing support.This ability sets us apart and allows us to provide unparalleled support and service across the globe. Contact Rebo to discuss onshoring. Let us help you de-risk. 
Lastly what really sets Rebo apart is our people.  The dedication our team has for our customers, our company and each other makes working at Rebo fun.  We don't bog down the organization with bureaucracy and multiple organizational layers, but rather we empower our people and foster open communication to come up with the best and quickest decisions so we can serve our customers quickly and efficiently.
Connect with us at Rebo Lighting & Electronics, and experience the difference of a company that embraces your unique way of doing business. Contact us today to learn more about our fast, flexible, and knowledgeable solutions that will drive your automotive business forward.
Our people are our greatest asset. Which is why we've committed to the long-term well-being and development of our employees and communities.
Rebo Lighting and Electronics is a global company with a presence in several countries, dedicated to providing high-quality lighting components to customers worldwide. Our headquarters is located in the Southeast Michigan region of the United States, and we have team members living and working in various regions globally. As a global company, we recognize our responsibility to prioritize sustainability in all aspects of our operations. We measure sustainability not only by the impact our business has on the health and safety of our team members and their families but also by the positive contributions we make to the communities in which we operate. At Rebo Lighting and Electronics, we believe that responsible business practices are crucial for a better future for our team members, customers, and the environment, no matter where we operate globally. Regional Strength enhanced by Global Collaboration and best practices sharing.
1869
Together with his sons Christoph and Friedrich, Otto Schlothauer founded Otto Schlothauer and Sons OHG in Ruhla. They produced meerschaum goods and wooden articles in their small factory. In 1883, Christoph and Friedrich changed their name to C. & F. Schlothauer OHG and now, with ten to fifteen workers, produced metal haberdashery before they started producing gas/water fittings and electrical installation material shortly before the turn of the century.
1907
Alfred Schwarz founded the Alfred Schwarz metal works in Eisenach and began to manufacture carbide and kerosene lamps, ball horns and candle lamps for horse-drawn carriages under the MELAS trademark. With increasing demand for electrical devices, the focus was on the development of vehicle electrical products: Tail and stop lights, car indicators and windscreen wiper systems were now part of the extensive product range.​
1891
Wagner Lighting is born! H.A. Wagner started the Wagner Electric Manufacturing Company in two rooms on Olive Street in St. Louis, Missouri. The company's first product was a self-starting motor for a desk fan, meaning no more hand cranking, a major breakthrough, as the electric fan held much the same appeal in the 1890s as air conditioning does today.
1930
Not only C. & F. Schlothauer was able to assert itself with fittings for the automotive industry and bicycle accessories. With the MELAS car indicator, Alfred Schwarz brought a bestseller onto the market: in 1932, 1 million automobiles were equipped with direction indicators. At the end of the 1930s, both were involved in armaments production, and the manufacture of war-critical products was the focus of all entrepreneurial activities
1945
At the end of the war, the factories were placed under Soviet administration. The reconstruction was followed by the production of the pre-war range. MELAS dynamo hand lamps as battery-free flashlights became a hit on the dark streets of the post-war period. The first alternator was produced in Ruhla as early as 1947. With the transition to public ownership, the company was now known as Electrical Vehicle Equipment Ruhla (EFR) and Car and Bicycle Electrics Eisenach (AUFA).
1909
The Horseless Carriage: Wagner engineers, always looking for new opportunities and applications, began to look at the horseless carriage, as the automobile industry moved beyond being a rich man's plaything in the Gay Nineties to a true growth industry for the world. Wagner experimented with electric starters, electrical charging stations, storage batteries and even built a prototype electric car.
1912
Wagner Manufactures First Electric Light Bulb For Automobiles. As automobile lighting transitioned from acetylene fuel and kerosene lanterns to electrical lighting, Wagner manufactured miniature light bulbs and some of the first electric light bulbs for automobiles.
1958
Other company names followed before the Eisenach and Ruhla plants merged in 1958. The VEB Fahrzeugelektrik Ruhla – FER for short – was born. The increasing demand for products for the entire vehicle construction of the GDR expanded the production program steadily. FER manufactured starters, alternators, wiper motors, flashers, rotating beacons, flashing, brake and tail lights, bicycle lighting systems and much more under the new brand name "AKA".
1968
The combine VEB Fahrzeugelektrik Ruhla was formed to concentrate business units in certain sectors. Thus, all processes from product development through production to sales were combined. Numerous extensions to previously independent companies allowed the combine to grow continuously. The number of employees rose to 6,500 and as early as 1971 the 25 millionth bicycle light was produced.
1978
FER was a series supplier for the entire vehicle electrics of the GDR and the production facilities meanwhile extended to 45 locations with 10,000 employees. About 30 percent of the products, such as headlights, fanfares and rotating beacons, were exported to more than 50 countries. A large part went to the Soviet Union and other countries of the Council for Mutual Economic Assistance, but also to Western European car manufacturers such as VW, Seat and Peugeot.
1989
Growing demand for vehicle electronics and batteries required rationalization measures - entire production lines were automated. The range now consisted of headlights, lights, trumpet horns, starters, ignition and windshield wiper systems, bicycle lighting systems and much more. After the fall of the Berlin Wall, public property was placed under trusteeship. A time of uncertainty began: the question of the future was in the air.
1990
VEB Fahrzeugelektrik Ruhla was converted to FER Fahrzeugelektrik GmbH, with the Treuhandanstalt being a 100% shareholder. A declaration of intent to set up a joint venture had already been agreed with Robert Bosch GmbH. A cooperation agreement was concluded and with the founding of Robert Bosch Fahrzeugelektrik Eisenach GmbH, core areas such as headlights and wiper motors as well as the training workshop were outsourced.
1994
New sales areas were developed, cable production started and the AUFA Auto- und Fahrradelektrik GmbH was founded. After 45 years of socialist ownership and 2 years of fiduciary administration, FER was returned to private ownership on July 1, 1992. Klaus Lantzsch and Jonni Bachmann became managing partners and invested in a new plant in the Stockhausen commercial area. Production started there in 1994.
1997
5 years of FER Fahrzeugelektrik GmbH in Eisenach and "90 years of bicycle lighting systems from Eisenach". At the same time, FER was awarded the innovation prize for the "12 volt bicycle spoke dynamo" and was the first manufacturer of LED side indicators for the VW New Beetle. In addition to 530 employees at the Eisenach site, there are subsidiaries in Chemnitz and Barcelona, as well as cooperation partners in Mexico, the Czech Republic, Belarus, Brazil and Vietnam.
2004
In October, 100% of the shares in the company were acquired by Truck-Lite Co., LLC. acquired, one of the largest suppliers of light, cable and mirror systems for trucks and trailers in the USA. In 2008, FER was given a new name – Truck-Lite Europe GmbH – for a uniform image of the organizations in Europe. The products continued to be manufactured under the FER trademark. In the same year, Stephan Pfingsten became managing director of the company.
1953
A Record Setting Year. Wagner plant capacity doubled in ten years and Wagner now employed a record 8,000 employees.
1956
Merge with Tung-Sol. Wagner merged with Tung-Sol to become the largest manufacturer of automotive light bulbs.
1972
Sparta, Tennesse plant launched 1972
1998
Acquisition of Wagner Lighting. Federal-Mogul acquired the Wagner Lighting brand in its acquisition of Cooper Industries.
1991
BOAO Group established
2003
Company forms into Chongqing Yanfeng Johnson Controls Automotive Components Co
2013
New development projects and orders were acquired, including roof modules for Audi. The "LED attachment optics for light bundling, light control and light distribution in roof modules" achieved first place in the plastics award of the International Society for Plastics Technology for outstanding development achievements in lighting technology. The corporate design was revised under the motto 'Back to the roots' and the 'old' FER logo was used again.
2017
On November 2nd, the workforce celebrates the takeover of Truck-Lite Europe GmbH from the Chinese company REBO. The location in Eisenach/Stockhausen becomes REBO Lighting & Electronics GmbH. In 2018 and 2019, new orders from well-known and new car manufacturers, e.g. B. BMW, Daimler and Lucid acquired.
2008
New State-of-the-Art Testing Facility. Wagner opened a state-of-the-art testing facility in Ann Arbor, Michigan.
2012
New Lighting Line-Up Launched. Wagner launched a new premium line-up of capsule lighting, including Wagner NightDefense™, Wagner BriteLite™ and Wagner TruView® PLUS, with differentiated features and benefits.
2014
TruView® PLUS LED. Wagner introduced to the marketplace Wagner TruView PLUS LED miniature lamps, engineered to deliver 10-plus years of performance, while projecting a whiter, brighter and deeper pattern of light.
2015
Market Leader in Innovative Products. Wagner is poised to launch an innovative new line of lighting for the commercial marketplace branded Wagner LongLife HD.
2011
Rebo was founded in 2011 by BOAO Group and Chicago Miniature Lighting (CHML). Initial product launch included LED ambient lighting systems and CHMSL's for Changan-Ford (CAF) and Changan-Suzuki
2013
The main product focus turned to LED interior lighting and signal lighting development. Production and sales successfully expanded the business to Dongfeng-Nissan, BYD-Mercedes, Geely, Shanghai Automotive (SAIC) and Beijing Automotive (BAIC).
2013
Launched Multi color ambient light program for Ford Edge (CD539) including: Puddle, door, console, footwell, and cup holder lighting.
2014
BOAO Group bought shares of CHML in 2014 and restructured the company in preparation of becoming a public company in 2015. A two way strategy was developed in 2015 which encompassed both LED lighting and automotive electronics.
2015
Company name changed to Chongqing Rebo Lighting & Electronics Co., Ltd.
2015
Rebo CQ became a public company in China 3rd Board (833810)
2016
Shanghai office established
2017
Federal-Mogul Lighting Division entered the BOAO system of Rebo parent company
2017
Truck-Lite Europe GmbH entered the BOAO system of Rebo parent company
Rebo Group is founded. Rebo Chongqing recombined with Zhengze, Rebo Germany, and Rebo USA.
2018
Rebo Germany Purchase of the former Autotest plant allowing us to expand our production footprint.
2021
Rebo Germany established SMT production line.
2022
Rebo Europe launches first production parts out of Serbia
2020
Rebo North America first lit badge product for Ford Mustang
2021
Rebo got out of bulb production business. After 50 years of bulbs, Sparta exits bulb business. Shipped over 5 Billion bulbs.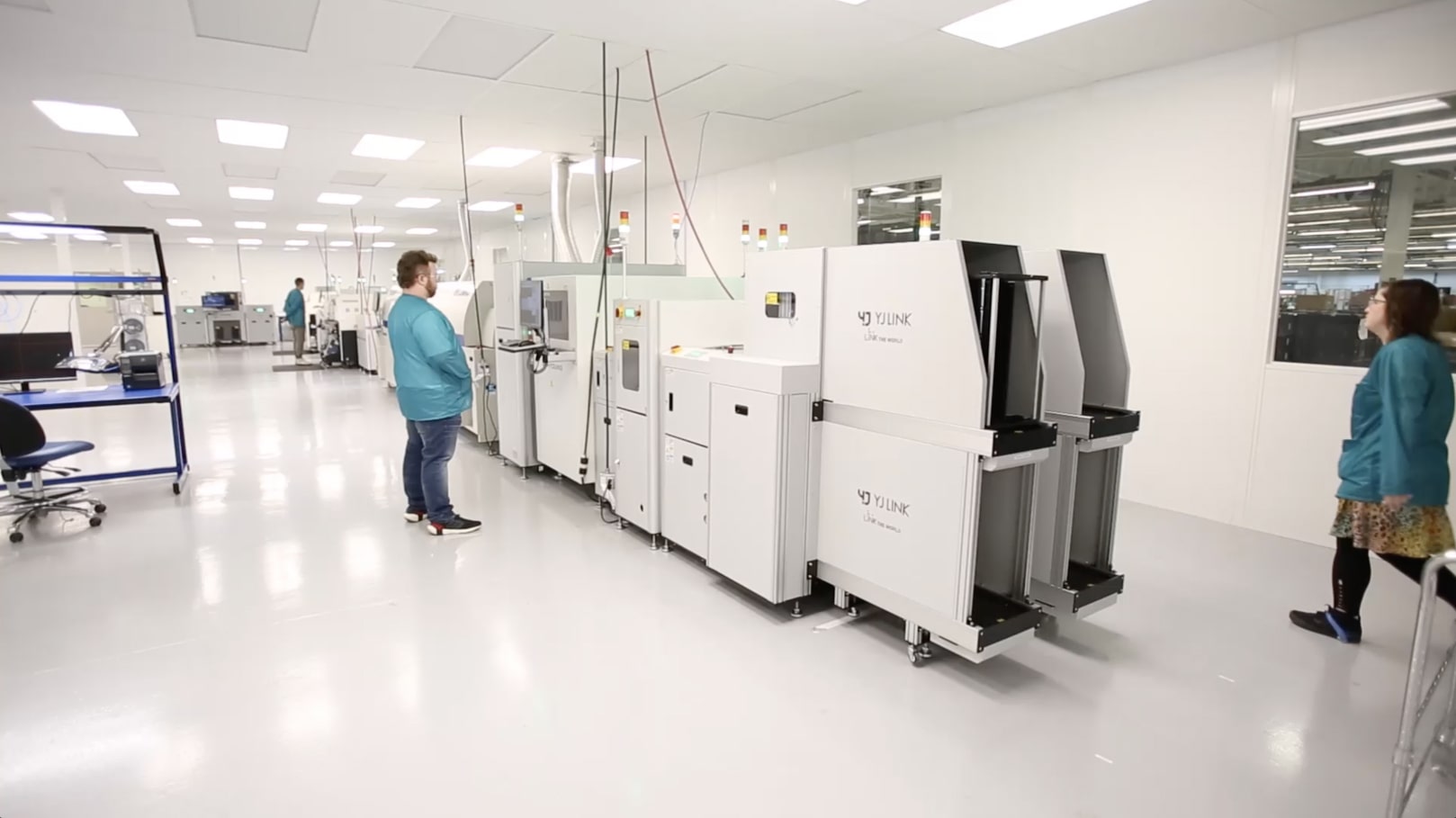 2022
Launched first SMT line in Sparta, TN
2023
Sparta, TN celebrates 50 year anniversary
2024
Rebo Mexico manufacturing location
2022
Established Wuxi, China manufacturing plant
A Global 'Start-up' Automotive Tech Supplier with
150 years
Legacy